News

Bernard Controls actuators for environment's ...
Bernard Controls actuators for environment's measure and protection equipment in China
Since June 2016, Bernard Controls has been providing more than hundred multi-turn & quarter-turn electric actuators with INTELLI+® intelligent control to Fujian Longking, which is one of the top leading company in China's environmental protection industry. Actuators equip several thermal power plants (from 600 to 2000 MW) all over the country.
The customer, with a large integrated R&D, offers products able to measure data, control the level of pollution and detect any health risks on plants. Thus, Bernard Controls' actuators motorize valves dedicated to electrostatic precipitators, flue gas desulfurization devices and air pollution control equipment. The company had two main requirements: obtaining control solutions with advanced functions as well as a separate control box with convenient interface to make any update and follow up easily.

Therefore, Bernard Controls proposed INTELLI+® with separated control box, offering advanced functions such as ESD, partial stroking and a user-friendly interface.

Beyond product quality, fast delivery and after-sales services permitted to Bernard Controls to become the priority choice of the customer, who would like to enhance cooperation.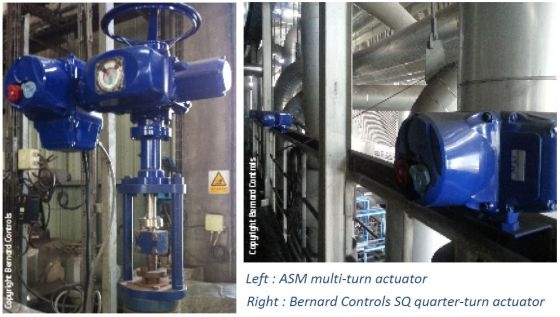 Catalogs
Weatherproof INTELLI+® electric actuators ST/SQ
Weatherproof INTELLI+® STX/SQX Ranges