News
Technical news

BC APP: Set up your electric actuators and much more in a few clicks !
BC APP: Set up your electric actuators and much more in a few clicks !
BERNARD CONTROLS is pleased to launch a new mobile application named BC APP. User-friendly designed, it allows to easily operate, setup and maintain Bernard Controls actuators with latest generation of controls, just using the Bluetooth connection of a smartphone.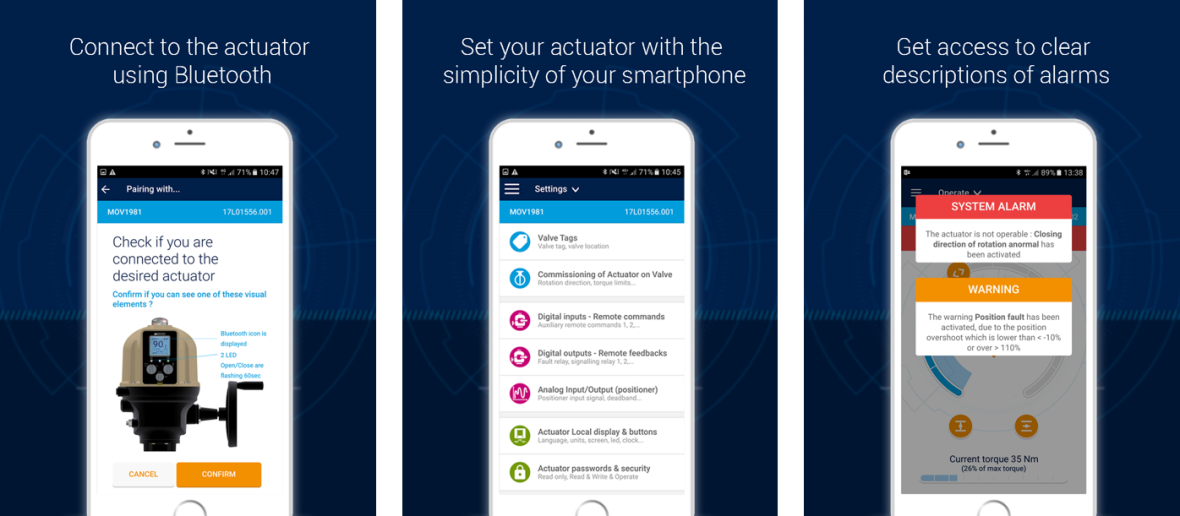 Easy connection
Thanks to the BC APP, you can now connect to new quarter-turn AQ range equipped with LOGIC[1] control, using the Bluetooth communication of your smartphone in a range of 10 meters, and simply set up the electric actuator and operate the valve. BC APP will also be suitable for use with new multi-turn AT & BT ranges equipped with LOGIC1 or INTELLI+®[1] controls, soon available in 2018.
In case of standard electromechanical SWITCH versions, when power is off, or for other Bernard Controls ranges delivered from mid December 2017, a QR code on the product plate enables, through the app, to get access to the technical documentation of the product.
Save time during commissioning
BC APP is intuitive and speed up the commissioning time compared to standard manual commissioning through the local commands of the electric actuator. Only a few clicks are necessary to set up basic parameters such as rotation direction or torque settings. Even complex settings are made easier thanks to clear display with colors and graphs. Especially, you can upload the complete configuration at once to speed the time of commissioning for many actuators with the same configuration.
Last but not least, in case of doubt or question for the engineer on site, BC APP gives access to Bernard Controls Assistance and Digital Library with related technical documentation (wiring diagram, dimensional drawing, Installation & Operation Manual).
Easy maintenance & enhanced control of your site
BC APP also enables the users to operate their actuators. In case of problems, alarms are clearly displayed on the screen with different colors depending on the effect on actuator operation (blocking in red, simple warnings in orange). Therefore, diagnostic & maintenance operations are simplified. Advanced diagnostic & maintenance features will also be available with the new INTELLI+® control such as torque monitoring (50 latest strokes), actuator activity, temperature monitoring….
Finally, Bernard Controls actuators with BC APP provide the best protection against unauthorized access from third party: connection between smartphone and actuator is encrypted and access codes are required to communicate with the actuator. In addition, all user connection logs are registered and available in the app.
BC APP is the only application that allows not only to set up and operate an actuator in a few clicks, but also to improve the reliability of a process thanks to key features and data for preventive maintenance.
Get the most out of your electric actuators with BC APP by Bernard Controls.



Learn more about the BC APP
Download the application free of charge from Google PlayStore. Soon available on the Apple Store.


Download the PDF file
[1] New version 2
[2] New version 3, only available with BT range.